"I really enjoyed using Scorebooth this year. It made keeping stats so much easier and more accurate."

Coach Smith - Olmsted Falls HS Varsity Softball
Contact us for questions or more information about Scorebooth.

Our baseball & softball scorebooks make keeping score quick and easy!
Our customers asked, and we answered. We designed our scorebooks to complement our baseball stat software. But whether you are a Scorebooth account holder or a team scorekeeper, you will find our scorebooks will save you time and effort. See for yourself by checking out the sample score sheet.
Key Features of Scorebooth's baseball and softball scorebooks: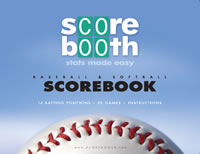 (Pay with PayPal OR a credit card)
Totals columns match Scorebooth's data entry pages for quick and easy transfer of game results to your account
Score up to 35 games (including opponents)
Each score sheet has room for up to 14 batters over 10 innings, plus substitution lines
Track offensive, defensive, and pitching stats
Simple instructions for beginners
NEW - Durable, UV and water-resistant cover
Size: 10" x 13"
Only $10
We also offer lineup cards made from heavy card stock (typically provided to Umpires). Contact us if you are interested.